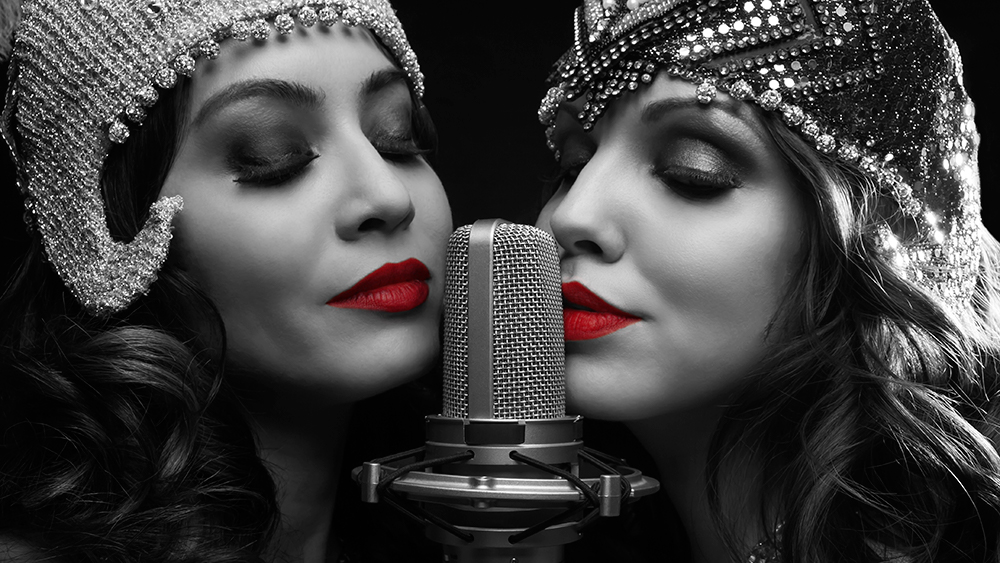 Alice Underground is a time traveling caravan to an anachronistic era set in a locale that's both familiar and fantastical. For the five members of the LA-based group, however, this has been a journey by happenstance. What was a one-off show now has the quintet chasing mythical characters and architecting a swamp cabaret aesthetic.
Five years after its fateful first show, the LA-based quintet now issues a stunning debut, Cambria Sessions. An album bathed in the blue hues of broken dreams, noir romance, and Golden Age Of Hollywood opulence.
Alice Underground whisks listeners and concertgoers away to an elegant underbelly teeming with deviant jazz, punk rock vigor, vaudevillian theatrics, and sensual emotionality. The group's oeuvre varies between originals that feel like they were plucked from an American Songbook from a Tim Burton-themed time capsule, and jazz standards reimagined to showcase Alice Underground's gift for conjuring longing and lasciviousness. The group counts as influences David Bowie, Ella Fitzgerald, Trent Reznor, and Billie Holiday. Fittingly, Alice Underground has been described as "gypsy jazz with a proto-punk edge."
The quintet's dark seductiveness, gothic glamour, and mythological imagery of the character Alice as a conceptual muse have endeared it to fanatics of steampunk, fantasy, and cosplay. Live highlights for the band include appearing at Los Angeles County Museum Of Art's New Year's event Golden Stag, hosted at the famous Los Angeles Park Plaza Hotel, and performing at the closing ceremonies for the Anime Expo in Los Angeles. There the group played originals, and backed cult artist Yoko Takahashi, singer of the theme song for the popular animated Japanese television series Neon Genesis Evangelion.
Alice Underground is Tash Cox vocals, bass, piano; Sasha Travis, vocals; Scott Landes, guitar, piano; Gordon Bash, standup bass, piano, guitar, vocals; and Steve Kefalas, drums, percussion. The band members boast eclectic and impressive resumes. Lead vocalist Tash Cox formerly sang with The Beta Machine, which included members of A Perfect Circle and Eagles of Death Metal. Tash has also sung in many operas, Neely Bruce's, "Circular 14: The Apotheosis of Aristides" being her favorite. Scott Landes has played with Collide, Android Lust, I, Parasite, and ¡BASH!, among others. Steve Kefalas has also been a member of Android Lust, I, Parasite, and ¡BASH!. Gordon Bash is an active jazz and rock musician, that has appeared on America's Got Talent playing with William Close. He heads up the punk/rockabilly band ¡BASH!, and is also the bassist for the popular ska band Save Ferris. Sasha Travis is a singer, producer, director, and all-around artist. She has directed and produced for the Labyrinth Masquerade Ball, and Golden Stag events, written and directed for the Astra Dance Theater, and been a long time co-collaborator at Sypher Arts Studio.
The Cambria Sessions is threaded with a wildly fishtailing story of two girls moving to Hollywood to make their dreams come true. Detailing the narrative are the intertwined voices of Tash and Sasha. The story is rife with surrealism and mythology, with subtle allusions to Joseph Campbell. In the end, the protagonists flee Hollywood for the safe haven of Cambria, the beautiful wine country expanse in Northern California.
The album's lead off single is the slinky "Superman." The dizzying track swings mightily with whimsically zigzagging melodic passages and a seductive urgency oozing from voices of Tash and Sasha. The song intimates a love triangle. One of the girls is far too preoccupied with a male lover whose bravado has gotten him into a dicey situation. "It's about how in love, we either put someone else on a pedestal, or we struggle with being put on a pedestal," Tash explains. "I don't need a superman—I just want to love as a human being." The video for "Superman" is a collaboration with fashion photographer turned director Jean Renard It's a feast for the senses boasting a cross section of LA's finest dancers, eye-popping visual technology, and steamy film noir imaging.
Other standouts on the Cambria Sessions include a nostalgic and impressionistic version of the jazz standard "Fly Me To The Moon" and, the sultry and dark, "LA Is Burning." Traditionally, the evergreen "Fly Me To The Moon" is a swinging track that soars with optimism. Alice Underground's rendition is reflective and romantic, evoking the moment right before dreams slip away. Gordon says: "We went for that 'hero with her hair flying in the wind' feel. It's right before the girls escape for Cambria. It's very Thelma & Louise." The city smolders, and the torch ballad "LA Is Burning" wafts in from the rubble. "There is a lot of pain in that one," Scott shares. Tasha adds: "It evokes that sentiment of feeling alone in a faraway place, engulfed by loneliness."
The odyssey to Alice Underground began in the goth/industrial/metal scene. Outside of Alice Underground, Tash, Scott, and Gordon play with the group Mankind Is Obsolete. While on tour with the group Android Lust, they befriended the New York-based band's drummer, Steve. When Steve relocated to Los Angeles, he joined the trio. Sasha came into the fold when Tash heard her softly singing during an arts and crafts project. The two instantly had a deep connection. "We are both from Texas, we are preacher's kids, our names rhyme, and we're both Scorpios," Sasha explains. "We were meant to be soul sisters."
Alice Underground also has an extended family of thinkers, artists, and dancers. Shawn Strider, the creative director of the Labyrinth Masquerade Ball and producer of the Golden Stag events, helped forge the concept of Alice Underground and continues to contribute lyrics and story ideas. Others in the close circle include saxophonist Joe Berry (M83, Taylor Swift, Save Ferris), cellist Eru Matsumoto (Royal Philharmonic Orchestra, Demi Lovato), and hotshot Nashville guitarist Jordan Roepke (Restless Road).
Every myth has a valuable story within the narrative, and in exploring the fantastical realm of Alice Underground, the band members have been artistically and personally transformed. "There have been so many amazing moments with this band that truly feels like family," Tash marvels. "It's changed my life—these people brought music back in my life," Sasha confides. Gordon adds: "I love what we have done. We've created something indefinable." Steve concludes: "We got thrown into the fire with these jazz shows, and I'm so proud we found a voice and means of artistic expression within a genre many of us didn't know before. "